Here at Infinity Gymnastics we are more than a team we are a family. The girls spend many hours together in the gym and develop a bond that no other sport can develop. We support each other and encourage each other everyday. We not only compete together, but we have fun together.
The Infinity Gymnastics team program offers compulsory levels of gymnastics 1-5, Xcel and Optional levels 6-10.
A winning team that can take you to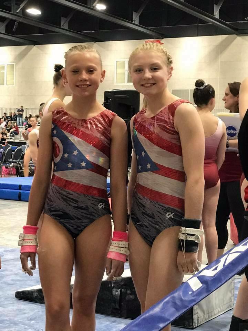 Compulsary Levels 1-5
The compulsary levels focus on the basics of gymnastics. The gymnast all perform the same routine with the same skills. Focus is placed on the basics of gymnastics, this helps the gymnast develop the skills necessary to be successful in gymnastics. We compete in USA Gymnastics level which is highly competitive yet rewarding experience.
Xcel Program
The Xcel Gymnastics Program is an alternative USA Gymnastics competitive program offering individual flexibility to both the gymnasts and to the coaches. The goal of the Xcel program is to offer gymnasts of varying abilities, the opportunity for a rewarding gymnastics experience. The Xcel program offers the gymnast to have their own routine choreographed to their personality and skill level. The gymnast are working to add more skills to their routines and to move up through the Xcel levels and into the Optional program. The Xcel Gymnastics level is a highly competitive level and that requires dedication.
Junior Olympic Optional Program (Levels 6-10)
The JO Olympic Program was developed with the belief that all gymnast should have a solid foundation of the basic skills to advance safely through the program. The goal of the JO Optional program is for the gymnast to advance at their own pace. Each level has specific requirements the gymnast must complete in their routine. The JO Optional levels require a huge commitment and dedication, but the rewards will last a lifetime.
Spring_Show_Pic_cropped.jpg