vvvvvvvvvvvvvvvvvvvvvvvvvvvvvvvvvvvvvvvvvvvvvv
vvvvvvvvvvvvvvvvvvvvvvvvvvvvvvvvvvvvvvvvvvvvvvvvv
It is our belief that your child is taking part in the greatest physical activity in the world. Gymnastics is a highly comprehensive sport that requires the participant to move their body through every plane imaginable. Once a child gains a foundation of movement in gymnastics they are well prepared to take on virtually any sport they chose. Wheather your child is here for general fitness, to cross-train, or with the goals of becoming a competitive gymnast, it is our commitment to create an experience that is fun and inspiring.
IMPORTANT UPCOMING DATES
May 27: Clinics/Camp registration begins
June 5-August 18: Summer Session dates
July 3-5: Closed Independence Day
2023-2034 School Year Registration Tentative Dates
School Year Session will begin September 5
Current students: July 19 New students: August 1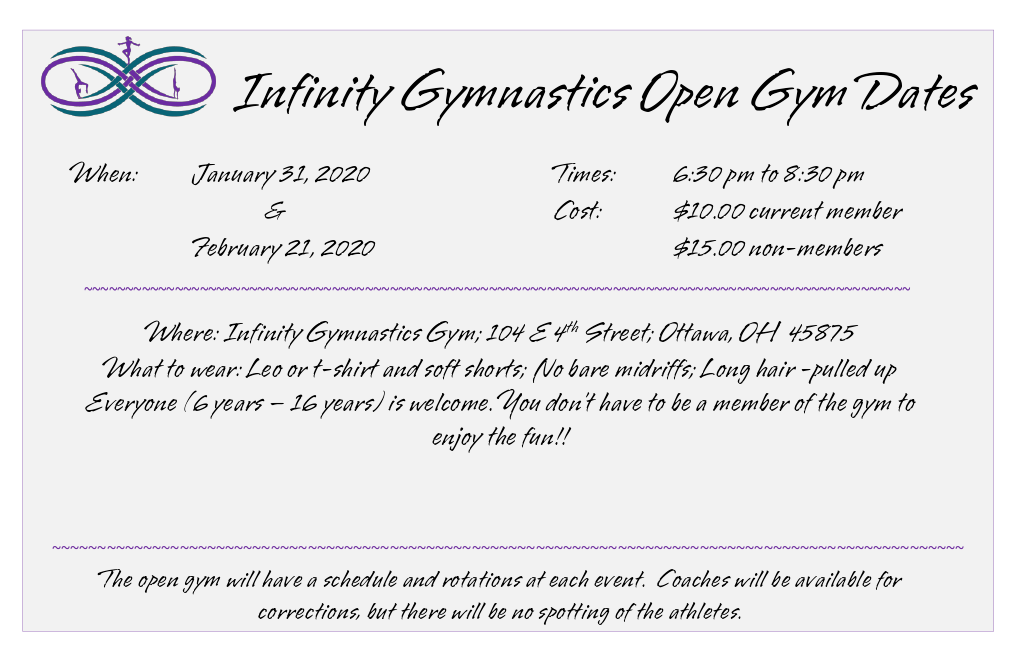 MINI-MOVERS
Parent and Tot, walking toddler-5 years
1 hr total: 1/2 hour structured,
1/2 hour free play
$10/week
June 12, 1:30-2:30 pm
June 28, 2:30-3:30 pm
June 20 and July 11, 9-10 am
July 19, 2:30-3:30 pm
July 27, 1:30-2:30
August 9, 2:30-3:30 pm
OPEN GYMS
$15/student, 6:30-8 pm
Will return in Sept
The portal is located under the "Parent Portal" tab above.
CLINICS
$20/student/clinic, 1 hour each
Backhandspring/Back tuck Clinics, ages 6+
July 26, 2:30-3:30 pm
Roundoff/Aerial Clinic, ages 6+
June 21, 2:30-3:30 pm
August 3, 1:30-2:30 pm
4-5 yr old Clinic
June 29, 1:30-2:30 pm
CAMPS
Back handspring and Back tuck Camp,
ages 6+
$50/child, 2 hours x 2 days each
June 14 & 15, 1:30-3:30 pm
July 12 &13, 1:30-3:30 pm
August 16 & 17, 1:30-3:30 pm
Use the Parent Portal to register your child for a class.
(You can view the classes offered under the "Classes Tab" above.)